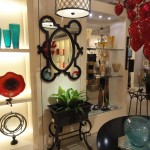 After roaming the halls of the High Point furniture showrooms for three days during the spring show in April, I came away with some strong impressions for current interior design trends.
The neutral color palette still prevails for upholstery: white, ivory, charcoal, silver, black, greige, taupe……not much brown to be found. These natural colors were punctuated with a spectrum of intense color used on accent furniture and accessories: tangerine, aqua, lime green, indigo, purple, and yellow. Subtler colors included navy, grey blue, and mint green.
Solid textiles and fabrics with geometric patterns of only two colors were prevalent. Natural linens, luxurious velvets and leather were prime upholstery selections.  Classical and gothic design elements—frets, circles, quatrefoil and ogee patterns—were utilized on furniture, light fixtures, rugs, accessories, and fabrics. Flame stitch and herringbone patterns were brought out of obsolescence, but with a fresh 21st century twist.
Metallics were shining ever brighter. Gold shimmered at the head of the pack, but copper, bronze, and silver were still in the mix. Furnishings were transformed from ordinary to luxurious with the application of metallic paint and gilding. Sheets of steel and aluminum, sometimes riveted, were applied to chairs and tables adding a contemporary or industrial vibe.  Even some fabrics and leathers had their own radiant metallic glow.  And metallics were not the only thing glittering—rhinestones, colored crystals, and mirrors applied to accessories and accent furniture made them appear as scintillating as jewels.
Mid-century design was reproduced or underwent a bold renovation. Bauhaus and Scandinavian designs were venerated in seating and casegoods. Reminiscent of that era, the wood of choice was walnut with a natural matte finish. Industrial style furnishings were quite evident and blended very nicely with the clean lines of the mid-century designed furniture.
Twigs, twigs, and more twigs. Twigs, tree branches, and composite materials replicated to look like twigs were showcased everywhere. Small trees and bushes stripped and preserved were used as accessories. There were also twig tables, twig beds, twig chairs and even twig chandeliers.
More manufacturers had thankfully joined the eco-friendly band wagon. Reclaimed wood was bigger than ever at this market. Furniture made from salvaged ships with a vintage patina to furniture made from shipping palettes and crates were proudly displayed. Fabrics consisting of sustainable fibers were touted by the vendors using them on their upholstered goods.
The bird's the word….On a sweet and final note, birds were a common motif seen at this market on everything from fabrics and accessories to artwork. One accessory vendor, Cyan Design, greeted attendees at their entry with a replicated chicken coop resplendent with hens and roosters.  The chicken reproductions were so authentic they appeared ready to fly the coop!
There are plenty of design trends to consider if you are looking to purchase new furnishings or update your interior. Hopefully, some of them will resonate with you.