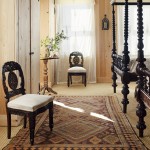 Selecting the perfect rug to fit your décor need not be a puzzling process if you follow some basic principles. A beautiful area rug can become the focal point of your room, anchoring the space, while adding warmth and comfort. Two questions many clients ask interior designers, "Should you select the rug first, allowing it to set the style and color scheme for the interior?" or "Do you create your design, and then add the rug as the finishing touch?"  I have found that either method works, although selecting the rug first can set the foundation for the entire design scheme.
For best performance and aesthetics, it is most ideal to place your area rug on a hard flooring surface, such as wood, tile or concrete. Placing a decorative rug atop an existing carpet with an appreciable pile is a recipe for wrinkling and bunching. You will also want to underlay your area rug with an appropriate pad to secure it in place and protect the flooring underneath.
So where to begin?
Size
Before you begin shopping, you need to determine the size of the rug that will best fit your room. If you are going for more coverage with an almost wall-to-wall effect, leave about 18 to 24 inches from the walls to the edge of the rug. There is no definitive rule for whether the furniture should rest on or off of the rug. Furniture located all-on or all-off creates a more formal look, while furniture partially-on, partially-off is more casual. For the dining room, add about 4 feet (all around) to the size of the table so that the chairs remain on the rug while pushed back. When utilizing a larger rug in the bedroom, 3 feet on each side means no one will land, feet first, on a cold floor upon rising in the morning. A smaller rug used on each side of the bed serves the same purpose. Most decorative rugs come in standard sizes: 2'x3', 3'x5', 4'x6', 6'x9', 8'x10', 9'x12', 12'x15', and 15'x18'. If those don't measure up to your space requirements, custom-size rugs or bound roll goods can provide the perfect solution.
Shape
The shape of your room and your furniture layout determine the shape of the rug. Since most rooms are architecturally rectilinear, rectangular rugs are the usually the best choice. Round and oval rugs work great in round or oval rooms. In the dining room, round rugs look stunning when used under a round table. Zebra (we hope faux) and Tibetan Tiger rugs are free form in shape and are used to accentuate a smaller area of a room.
Material
Decorative rugs come in a variety of materials. Your budget and usage will determine the best fiber selection for your rug. My favorite fiber is wool–it is lustrous and durable, containing inherent soil-hiding properties. Silk rugs add luxury and shimmer, their delicacy making them a good choice for low traffic areas. For a more casual setting, cotton and sisal are considerations, but are less durable, the sisal being difficult to clean. Rugs manufactured from man-made materials, nylon, acrylic, olefin, and polyester are durable as well as easy on the pocket book. Synthetic fibers also allow the consumer to utilize area rugs in the creation of the ever popular outdoor living area.
Construction
Man-made or machine-made? Again, your budget will help determine your selection. Hand-made is the finest choice, and of course, will be more costly. Hand-knotted rugs, first made in ancient Persia, are at the top of the scale in quality. The more knots per square inch, the better. A good way to differentiate a hand-made rug from a machine one—if you see the pattern in reverse on the back side, it is the real deal, if not a machine has done the work. Hand-tufted rugs strike a balance between machine and man, as they are half man-made and half machine–made. For the more budget conscious consumer, machine made rugs may be your best consideration.
Design, texture, and color
The style of design, texture, and color palette you select for your rug go hand in hand with the overall design scheme for the interior, be it traditional, transitional, or contemporary.
Traditional rugs encompass Oriental and European designs. Oriental rugs cover a broad spectrum of patterns that can be geometric or curvilinear and originated in the orient—Persia, China, Tibet, India, Turkey, Arabia and other eastern and central Asian countries. Colors associated with oriental rugs are deep reds, rich blues, as well as pastel colors like dusty rose and grey-green. Savonnerie, Aubusson, Axminster and Wilton are commonly recognized styles of traditional European carpets which are of French and English origin. These rugs feature classical motifs or Baroque and Rococo patterns that are dominated by pastels, and can be flat woven, low-pile, or needlepoint. For the western hemisphere, the most commonly recognized traditional designs for decorative rugs come from the Indian cultures of North and South America that are characterized by bright reds and blues, browns and orange.
Contemporary rug designs associated with the 20th and 21st centuries are usually less intricate in pattern, from plain solids to geometric motifs , and are not limited to woven yarns.  The sky is the limit for colors available for contemporary rugs. Textures can be as flat as canvas, or as fluffy as shag.
Outside the box
For the more adventurous, the latest trend in area rugs are those that you can create yourself with the use of innovative modular carpet tiles. They are versatile, and easy to install, allowing you to create your own custom rug. FLOR offers a complete product offering of modular tile carpets for the home. http://www.flor.com/
Now that you are armed with some basic knowledge, you are ready to search out the perfect rug for your environment.
_______________________________________________________________________________________________________________________________________________
Photos courtesy of  Elle Decor, www.lookbook.elledecor.com/ Luxe Interiors, http://www.luxesource.com/ Veranda Magazine, www.veranda.com/ Rugs of the World,http://www.rugsoftheworld.net,  Capel Rugs, http://www.capelrugs.com/ Asmara, http://www.asmarainc.com/ Nazmiyal collection,  http://nazmiyalantiquerugs.com/ FLOR, http://www.flor.com/  surya, www.surya.com/