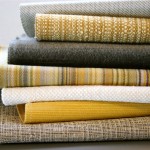 Have you ever wondered what inspires textile designers to create fabrics? If you are Sina Pearson, then you take your inspiration from nature or from the emotions that nature evokes. Every textile designed by Pearson tells a story, deriving inspiration from places she has visited—Monet's Gardens at Giverny, a desert oasis at Palm Springs, Scandinavia—or an element from nature as simple as coffee berries.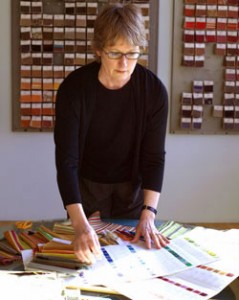 The granddaughter of Swedish immigrants, Sina Pearson directed the textile divisions of several A-list fabric houses before founding her own company in 1990. Her corporate office is located in the historic SOHO district of New York City. The 10,000 square foot facility houses her design studio, warehouse and customer service department. In 1985 she co-founded ACT (the Association for Contract Textiles), which benchmarks the industry standards for contract fabrics–Flame resistance, Color fastness to wet and dry crocking, Colorfastness to light, Physical properties, and Abrasion. You can find a listing of ACT performance guidelines on Pearson's web-site. http://www.sinapearson.com/act.htm.
Sina's textiles are appropriate for almost any contract setting, indoors or out: corporate, healthcare, education, hospitality, or institutional. She injects sophistication and high-style into the  200-plus contemporary textile patterns in her portfolio that include color coordinated palettes, ranging from muted neutrals to the vibrant colors of Mexico. All of her fabrics are rated for heavy duty contract use and contain natural as well as synthetic yarns—Bella-Dura, Crypton, Nano-tex, Sunbrella, Mohair velvet, Wool epingle, Trevira CS, Solution dyed nylons, and Natural fibers. Convenient information about the care and finish properties of all SP textiles are available: http://www.sinapearson.com /care.html,  http://www.sinapearson.com/pdfs/finishes.pdf ,  http://www.sinapearson.com/special-finishes.html 
Sina Pearson  is dedicated to creating sustainable fabrics that will be durable and enjoy an extended lifetime. For the eco-conscious, her fabrics include creations that are MBDC Cradle to Cradle Silver and Gold certified, Crypton Green, PVC free or Greenguard certified . A matrix guide for earning LEEDS points can be accessed: http://www.sinapearson.com/pdfs/leed.pdf.
The Sina Pearson web-site is chocked full of textile specific information, but two categories are uniquely appealing — "how we design" in which Sina shares the story behind the creation of some of her fabrics: http://www.sinapearson.com/how-we-design.html, and the other "color stories" , a presentation of coordinated textile color palettes. http://www.sinapearson.com/how-we-design.html.
The story behind Coffee Berry: First the design is created from a single cut out or drawing, in this case, the design originated from a project dating to Sina's school years. The pattern is then sent to the mill to set the repeat. Once the repeat is approved, the pattern is woven into a blanket of many colorways. Various colorways are cut from the blanket for comparison. The most alluring are finally selected to go into the permanent collection.
For her "color stories", each month Pearson introduces an inspirational selection of favorite textiles of varying hues, textures and patterns that co-ordinate into a color palette that reflects the current season and times of the year that we celebrate. Why not celebrate your interior with fabrics from Sina Pearson Textiles?
_____________________________________________________________________________________________________________________________________
All photographs courtesy of Sina Pearson Textiles : http://www.sinapearson.com/