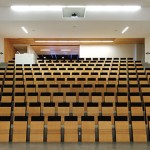 Until you have attended a lengthy movie like the recent Batman film, you may not have noticed the chairs that you sat on at the theatre. Your consciousness may only have been tweaked if your back was aching from sitting for an extended period in a chair that lacked sound ergonomics.  If the seat was so bulky that it left little space between your knees and the chair in front of you, your feet might also have hurt from being stepped on by other movie goers as they traversed your row for a popcorn or bathroom run.  The good news is that it is unnecessary to experience these discomforts as there are innovative fixed seating solutions available in the market place.  That news will not become reality until cinema owners undertake to furnish their facilities with more comfortable seating when new construction or renovation time rolls around. Creating an enhanced experience for movie goers becomes increasingly important, as cinemas  try to lure the consumer away from their own home theatre systems and to keep up with their competitors. Providing their patrons with comfortable seating is an important component of the enhanced experience.
Interestingly enough, there is a leading manufacturer of state-of-the-art fixed seating furniture, Sedia Systems, that operates right here in North Carolina. They offer a comprehensive product line of fixed seating solutions for theaters, auditoriums, lecture halls, classrooms, courtrooms, airports, churches, training rooms, sporting arenas/stadiums, and public assembly spaces. There are almost infinite options for any environment to optimize function and aesthetics from maximizing capacity to enhancing engagement.
Sedia's auditorium or theatre style furnishings range from the conventionally designed, all upholstered seating of the Mercury and FT10 series to the award winning Genya and slim-line JumpSeat series. This more traditional style seating can be equipped with low, medium or high backs, gravity uplift seats, tablet arms, wire management, wood seat bottoms and back panels, short or long end panels and aisle lights.  These versatile, floor mounted  systems can adapt to flat, sloped or tiered floors with any architectural design, curved or rectilinear.

The monolithic Genya system, applicable for straight row configurations, features auto uplift seat and arms that automatically retract. A gas operated device retracts the arms and seat, folding them into a self-contained compartment that also functions as the structural framework. Genya can be upholstered with fabric, vinyl, or leather with rear-facing back panels of leather, wood or marble.
Sedia's latest and most exciting introduction, JumpSeat, was the winner of the Editor's Choice award for Best of NEOCON 2012. The innovative, razor-thin auditorium chair appears to defy gravity. Its compact footprint allows for maximum capacity. JumpSeat consists of plywood and spring steel, folding to less than four inches when unoccupied. The flex spring seat is available in multiple widths and back heights, with or without armrests and can accommodate straight or radius floor plans. The seats and backs are available in plywood, laminate, or wood with fabric or leather upholstery.
For lecture halls and classrooms, Sedia Systems constructs flexible floor anchored seating and table systems, adaptable to flat, sloped or tiered floors.  The seating systems can be enhanced with work surfaces that conveniently attach to the seating or can be independent of the chairs. For room uniformity the swing away system incorporates a self-centering seat return. The chair options are varied from all upholstered backs, mesh backs, wooden backs to polypropylene backs. The writing surfaces are laminate with additional options that include modesty panels, end panels, integrated wire management, and power and data modules. Several classroom/lecture hall applications are pictured below:

The indoor/outdoor FCB series is a perfect fit for sports stadiums and arenas. This handsome, contemporary polymer seat design is available in four sizes, and can be pedestal or riser mounted in straight or radius row configurations. This system offers optional armrests, removable covers, gravity uplift seats, tip-up writing surfaces, and customized logos.
Sedia Systems has more than just fixed seating systems in their arsenal. To view a complete product offering including task chairs, stack chairs, training tables and lounge furniture check out Sedia's website: http://www.sediasystems.com/
___________________________________________________________________________________________________________________________________
All photos courtesy of Sedia Systems, Inc. http://www.sediasystems.com/