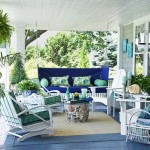 Just about this time last year the web-site for Carolina Interior Works was launched along with my weekly blog. The topic of that first blog was "bringing the outdoors in" through the use of solar screen shades. Almost a year later, this entry will switch directions to feature "taking the indoors out."  While seeming diametrically opposed, the separation between indoor and outdoor living spaces has become more indistinct with the occurrence of today's leisure lifestyle trends. Taking the indoors out is super easy when retractable doors are utilized in a structure to expose the interior to the outdoors.
This shift in the way we live and entertain has made the "outerior" a natural extension of the interior. It has become increasingly important for the porch or patio to duplicate the ambiance, style and color palette of the interior. The furniture and decorative accessory options available to achieve the perfect design aesthetic are almost endless—whether you are an individual leading a solitary existence, with a yen for a soothing outdoor environment in which to decompress, or a gregarious people-person, with the need for an outerior replete with all of the decorative fixins' in which to entertain family, friends, or clients. Your choices no longer need be molded plastic chairs or folding loungers.
If your budget is tight, perking up your patio can be as simple as adding a few colorful potted plants, cushions, or an area rug. For those with more money to spend, decorating your outerior can range from a simple furniture upfit to the addition of a fireplace, kitchen, or water feature with all of the accompanying accoutrements.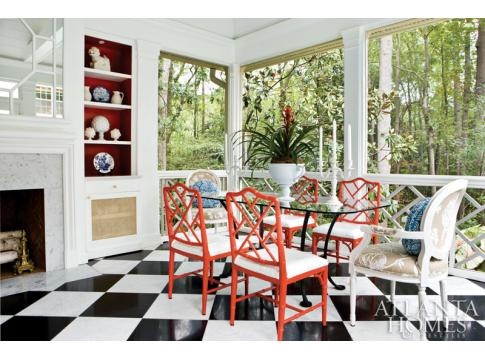 When designing your outdoor living area, your plan should start with a determination of the size and function of the space. Before you go shopping you need to know what items will suit your requirements, as well what size those items need to be in order to properly fit the space.  If you do not have a covered or screened in porch, then you may consider adding umbrellas or awnings for privacy and protection from the elements. Soft seating groupings are conducive for conversation on the patio as well as by the outdoor fireplace.  If you are going to incorporate an outdoor grilling area or kitchen, you will also want appropriate dining furniture to compliment it. Comfortable lounge chairs area are a must for sunning by the pool. Draperies, area rugs, lighting and other accessories will be the icing on the cake.
When purchasing outdoor furniture, there are a multitude of materials from which to choose. The close-grained density of Teak is the perfect choice for exterior wooden furnishings—it is almost impervious to rotting and insects and mellows to a lovely grey patina.
Woven furniture constructed of durable man-made materials can be crafted into almost any style and mimics the look of wicker while maintaining its original appearance after years of use. Woven furniture is a good fit for those seeking a more traditional style decor, but handsome contemporary designs are hitting the market.
Aluminum and Stainless steel furniture have a more modern vibe as they can be molded into almost any shape. Aluminum is lightweight, resistant to corrosion, and recyclable. The inherent strength of stainless steel allows for a more elegant line in the design of outdoor furniture, while still retaining anti-corrosive qualities. Furniture made of composite resins can also be included in the materials line-up for appropriate exterior use. All upholstered lounge seating without any visible frame material showing gives the backyard interior an inside look.
Cushions, strapping or mesh may be added to increase comfort to many furniture styles. Cushions and the textiles used to cover them have made tremendous strides in recent years with the introduction of sophisticated outdoor fabrics like those made by Sunbrella. Indistinguishable from indoor fabrics, these textiles are sun, rain and mildew resistant. (An extra perk — they are kid and pet friendly.) Having draperies outside is no longer an impossibility when they are constructed with Sunbrella type fabrics.
Adding area rugs made of polypropylene that are engineered to withstand the elements can inject pattern, texture and color to almost any setting. Designs are available that are as elaborate as their indoor counterparts, making the transition from indoors to out seamless.
Getting down to accessories;  there are lamps, chandeliers, sculptures, china,  and other decorative items (even flat screen televisions) that are suitable for outdoor usage. The accessories you select can personalize your outdoor living area, as well as contribute cohesiveness between your indoor and outdoor environment.
Now that you are armed with a little knowledge, are you ready to take advantage of the season ending outdoor furniture sales going on right now?
____________________________________________________________________________________________________________________________________
Photos courtesy of Architectural Digest, Traditional Home, Houzz, HGTV, Atlanta Homes, Houston Culture Map, House Beautiful, LuxeSource, Better Homes and Gardens,