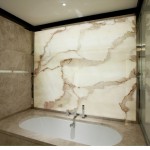 Wouldn't you like to be able to change the color of your walls instantly without applying paint or wallpaper?  How about incorporating the luxurious look of marble into your interior design without actually using expensive or fragile exotic stones ? Accent and illuminate a wall in your reception area?  Impossible?  Not if LumiVisions' Spanlite products are utilized.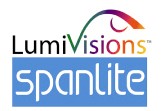 LumiVisions and Spanlite UK have developed two unique patented products that take LED edge-lighting technology to a new level—Spanlite® and Digital Tattoo Imagery.

Spanlite® is an LED edge-lighting technology, designed for back-lighting LumiVisions' digitally tattooed resin and glass feature walls and horizontal surfaces.  Low cost, energy efficient LED overhead lighting is a perfect alternative to Fluorescent light fixtures, even if  you are not utilizing high resolution graphics.  Spanlite® technology consists of two parallel panels anchored in a slim aluminum frame.  A Patented Spanlite® panel imprinted with a customized matrix, is located right behind the LumiVisions Digital Tattoo panel that contains the super high definition image to be back-lit.  LED lighting refracted from the Spanlite® panel uniformly illuminates the image in front.  Amazingly, an easily replaceable, single LED source (row) can sufficiently cover an area up to 8.2 feet in height and 11.5 feet in width.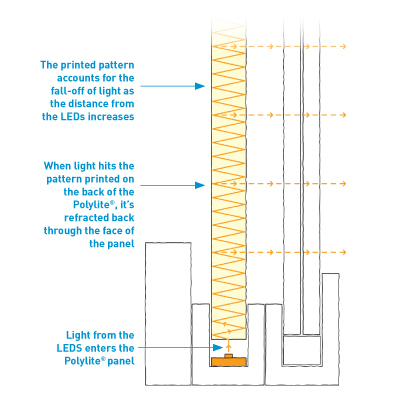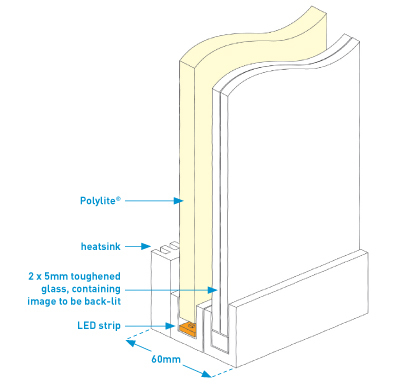 For a jaw-dropping effect, Spanlite® can be utilized in tandem with any of LumiVisions' Digital Tattoo, Satino or Spectra Colored Laminated Resin or Glass Panels (or most any other translucent architectural material) with absolutely any photo, design or color imaginable.  High resolution reproductions of exotic marbles are Spanlite's specialty for the Spanlite® line,  but artwork, logos, graphics, photos, or text can also be applied for stunning results. The numerous benefits of using Digital Tattooing in lieu of marble or other exotic stones are listed on LumiVisions-Spanlite's web-site as follows:
Cost – Digital Tattooing is significantly less expensive than natural marble or onyx.
Control – we can retouch and color-correct the image to the desired effect.
Bookmatching – by flipping the image we can recreate the effects of book-matched stone.
Size – many natural exotic finishes cannot be used at any great size due to delicacy – no issue with Spanlite®.
Eco-credentials – no depletion of natural resources.
Use – suitable for internal or external applications.
Accent walls no longer need to remain the same color. Changing your wall color as often as your mood changes is as easy as flipping a switch when varying LED colors are utilized in a Spanlite® application.
Spanlite® and LumiVisions Digital Tattoo technologies are not LumiVisions only specialties. A full line of LED light fixtures including spot lights, cove lights and profile lights are available. Exterior facades can go from hum-drum to fantastic when Accent LED battens are employed.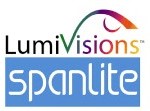 For more technical information and to view additional applications visit LumiVisions web-site at www.lumivisions.net  or Spanlite web-site at www.spanlite.com   

_______________________________________________________________________________________________________________________________
All photos courtesy of Spanlite