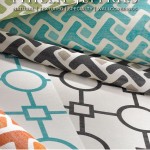 You don't have to be a mathematician to be cognizant of one of the hottest trends in interior design—geometric patterns.  While we see these patterns as new and fresh, they have been around for thousands of years.  Geometry and interior décor have these common denominators: line, shape, form, symmetry, scale, and proportion.
The simplest geometric motif originated in the form of a straight line, which morphed into parallel lines that created stripes.  Lines took on the shape of squares, triangles, diamonds, and octagons by adjoining straight lines at different angles.  The ancient Greeks and Romans added their own twist to the straight line by creating the meander, a continuous duplicating motif found in the Greek key or fret and the chevron, an inverted v-shaped pattern.  Circles or spheres have existed since creation—we inhabit what should be everyone's favorite sphere—earth.  Gothic architecture developed the circle and the straight line into more sophisticated designs bestowing us with the ogee, quatrefoil and barbed quatrefoil motifs.  The diverse and elaborate ancient Chinese trellis or fret continues its far reaching influence as decorative ornamentation.
Incorporating geometric patterns into your environment can be subtle with elegant neutrals—white mixed with silver or beige, or exuberantly bold with contrasting colors—such as white juxtaposed with black, red or navy. The current trend for fabrics, rugs, and wallpapers includes two-color geometric patterns, with one of those colors, the background, being white or another light neutral.
If you want to test the waters by adding a geometric pattern into your interior design scheme, start out small with decorative pillows or an area rug. For the bolder of heart, take the plunge and mix several geometric patterns together with solids, or with floral patterns. Vertical stripes can add height to your space, while horizontal stripes, diamond and hexagon shapes can expand it. When layering patterns, scale is an important factor. For a stylish, balanced appeal, varying the size of the patterns is usually most effective.
Patterned geometrics shine in any almost any style interior—contemporary, traditional or transitional.  Not so surprisingly, mathematical shapes can enhance a furniture or accessory piece, catapulting it from plain to stunning.
Are you ready to add a little math into your design equation?
__________________________________________________________________________________________________________
Photos courtesy of: House Beautiful, Elle Decor, LuxeSource, Architectural Digest, Robert Allen Fabrics, Fabricut, Caracole, Mannington Commercial, Legacy Linens, Phillip Jeffries