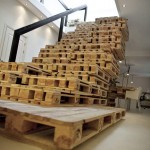 In celebration of my 100th post, I am "recycling" my most popular entry. I was a bit surprised to see so much interest in the re-purposing of shipping pallets. If you have not considered their many uses, please take a peak.
Back in the dark ages, when I embarked on a career as an interior designer, if you had informed me that houses and furnishings constructed from shipping pallets (not to be confused with color palettes) would become chic, I probably would have shaken my head in disbelief. How times and our awareness of the environment have changed.
The use of reclaimed wood continued as a major trend at the recent High Point Market, for furniture as well as showplace decoration. Repurposed wood was the name of the game, refashioned into almost every style of furniture, as well as into conversation making accessories. The goods for sale were not the only items sporting upcycled wood. What better way for a vendor to make an impressive environmental statement, while at the same time saving money, than by covering a showroom floor or backdrop with wood harvested from shipping pallets? Those floors and walls sometimes configured in striking herringbone or diamond parquet patterns, were visually stunning— raw, eco-savvy, arresting.
Sustainable, recyclable, and versatile, castoff shipping pallets can be used for temporary or permanent housing. Architectural firm, I-Beam Design, created and fabricated an award-winning temporary habitat called Pallet House for refugees. Easy and quick to construct, the pallet house can be made from materials already on hand at most disaster sites since relief supplies and food are usually transported on wooden pallets. This eco-friendly structure need not remain temporary; it can easily evolve into a more permanent home with the addition of local materials like concrete, plaster or mud.
Architectural firm, James and Mau, designed the Manifesto House, an environmentally-aware habitat for Infiniski, a construction company that bases its structures on bioclimatic architecture. This "green" house located in Chile was made from recycled, non-polluting materials, in this case, three shipping containers clad with white painted pallets. The pallet skins can be opened and closed to assist in regulating interior temperatures.
Retailers with products targeted for the hipster crowd are using discarded shipping pallets for creative displays, while forward-thinking corporations are effectively integrating them into the office as desks and conference tables. In Berlin, fashion savvy store, F95, showcased personal accessories in display boxes affixed to the tops of stacked pallets.  Most Architecture employed Euro-pallets when designing sensational temporary working space for BrandBase, a Dutch advertising agency. Pallets were applied throughout the office for stairs, walkways, flooring, desks and conference tables creating an informal and innovative office design.
Fashioning furniture and decorative items for your interior out of wooden pallets is only limited by your imagination and skill with a hammer. The internet is loaded with amazing ideas and how-to guides for building almost anything from a bed for your pet to a bed for yourself. Attach casters to a couple of stacked pallets for a smart mobile coffee table suitable for indoors or out. Construct a cost-effective sectional sofa from stacked pallets and cushions. The list of items in which a pallet can metamorphose is almost endless……bookshelves, bike racks, dining tables, lounge chairs, kitchen islands, planters, wall art.
If you are on a tight budget, eco-conscious, or just appreciate the industrial look, why not consider reincarnating a pallet?
_____________________________________________________________________________________________________________________________________
thumbnail photo: Dezeen
Copyright: Vickie Hafer | Interior Designer |  Charlotte, NC